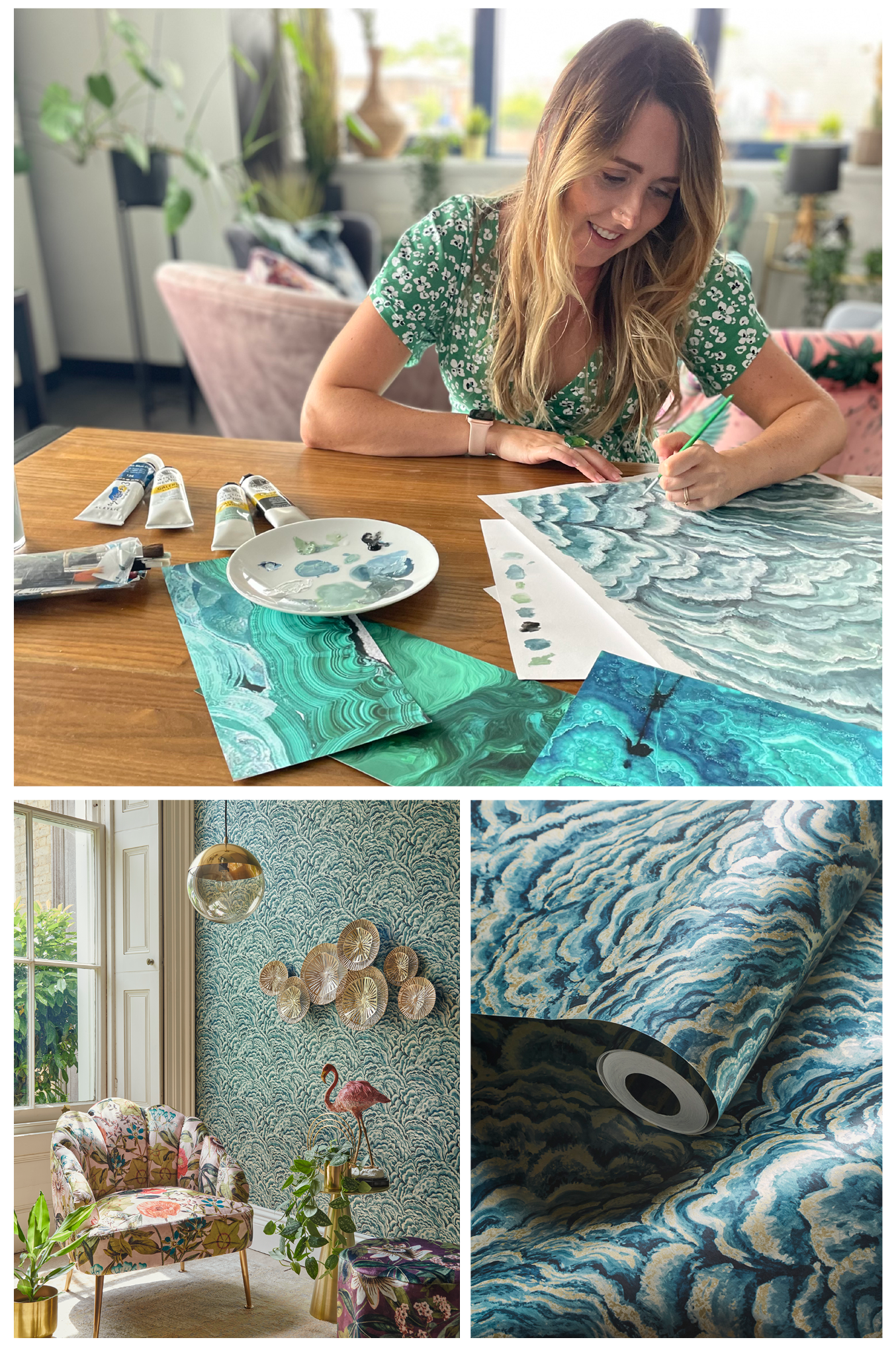 We caught up with Jessica Killen, Senior Designer for Clarke & Clarke as shares her thoughts on the captivating Exotica 2 collection.
Jess would you be able to tell us a little more about your background and how long you have been a designer for Clarke & Clarke.
Growing up, my mother owned an interior design business, so I've been surrounded by Sanderson Design Group brands for as long as I can remember. Interior decoration has always been a passion of mine, and this is definitely where it all began!  It's been more than a decade since I took my first job in the textile industry and since then I've worked across a diverse range of interior fabrics and products. The Clarke & Clarke portfolio, whether wallcoverings, statement, 'eco', contract or Studio G, allows for such an exploration of all things textile. The breadth of design makes Clarke & Clarke an exciting place to work!
 The Exotica 2 collection has an art deco twist and a distinctly more opulent feel that the first collection, can you talk us through what inspired you? 
We are always looking at new and exciting ways to develop our fabrics and working closely with the mills helps to achieve this. For example, we've added metallic highlights and depth to Selva's velvet jacquard, further enhancing the design. Similarly, we've introduced bronze/antique to our colour palette, evoking an opulent feel across our designs. Sometimes, as is the case in the Exotica 2 collection, ideas develop organically during the sampling and colouring process.
When you work on a new design, what's your process?
The mills are the starting point for new techniques and to ensure our products remain both luxurious and affordable. We begin with a design concept, creating artwork or developing the product straight on the loom through different fabric techniques (jacquard, embroidery, foiling, printing etc).
Which is your favourite design from the Exotica 2 collection, and why?
This is a hard decision! The designs are versatile and suit many different interior looks, but I have always loved Tahiti. The rich colour palette and painterly technique of the bouquet fabricate is a stand-out piece of floral art (after all, it did start life as a painting).
Which pattern did you enjoy developing the most, and why?
I enjoyed developing Lumino as this design really came to life when the painting was translated into product - a metallic jacquard fabric and a 'soft wave' wallcovering. 
This collection includes of a lot of rich velvets and metallic jacquards – do you think this opulent trend is here to stay?
It's definitely here to stay! Clarke & Clarke customers love the variety of our designs and the luxe space is a trend we want to continue exploring.
How would you encourage people to style these designs in their home– are you a fan of pattern on pattern or would you suggest focusing on one hero design?
Personally, I like mixing pattern with more pattern and complementing the designs with pops of plain colour. Our Selva fabric provides strong accents of colour with a subtle pattern, so team this design with a statement fabric/wallpaper like 'Congo' to provide a homage to a tropical interior.
DISCOVER THE EXOTICA 2 COLLECTION
posted on 30 Nov 2022 in Interiors