FABRICS WITH A CONSCIENCE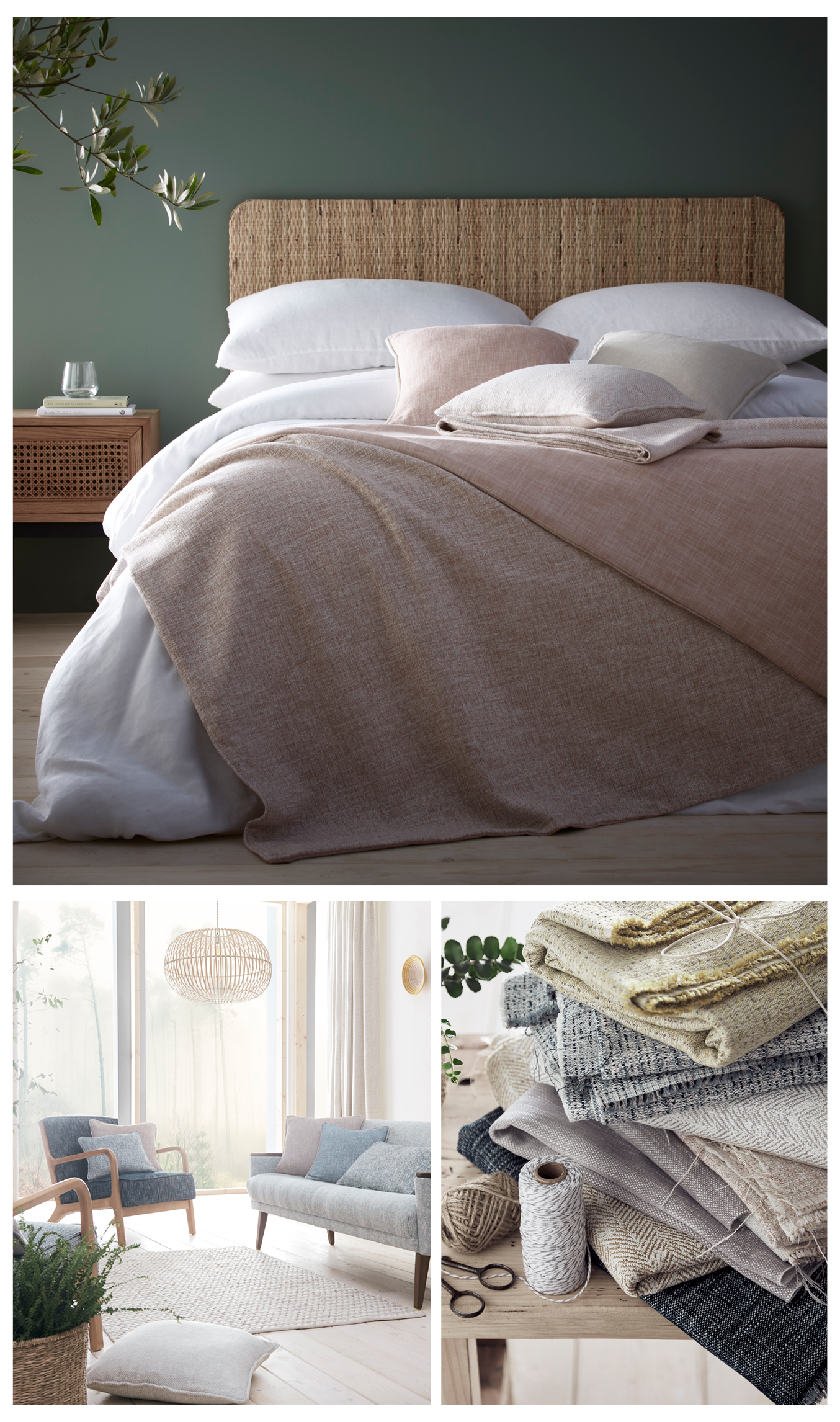 SUSTAINABLY SOPHISTICATED
Clarke & Clarke is known for producing glamorous and sophisticated fabrics, but did you know its eco-credentials are rooted in a commitment to producing beautiful designs with a sustainable conscience too?
Long gone are the days when design and sustainability do not go hand in hand. Style and substance are part and parcel of delivering stylish, thoughtfully made fabrics that stand the test of time and have a low impact on our planet.
Our foray into fabrics with a conscience has been a steady progression, backed by Sanderson Design Group's own commitments to become net zero by 2030 and its Planet Mark certification, which the group recently achieved for the fourth consecutive year. Planet Mark recognises continuous improvement, encourages action within brands and builds on an empowered community of companies and individuals who strive to make a positive difference to the planet.
As part of Sanderson Design Group's Live Beautiful strategy, Clarke & Clarke's collections of fabrics, Orla, Riva, Eco and Vardo Sheers have been designed using innovative materials to achieve high-spec, luxurious fabrics, synonymous with the brand and the group's values.
Eco
The Eco collection speaks to both the style and environmentally conscious customer. This comprehensive collection has contributed to caring for the planet - recycling 90 plastic bottles on average creates one metre of fabric. A classic herringbone, rustic multi coloured plain and a soft distressed chenille create a perfect union of three durable, easy to use designs – Gaia, Tierra, and Avani. Washable with a beautiful soft handle, these versatile dual-purpose designs are suitable for all decorative applications and are sustainable to boot. The Eco collection boasts a very organic feel in versatile, easy-living shades, creating a soft overall palette.
Orla
Crafted from 52% recycled plastic bottles Orla is a go-to fabric for upholstery and drapes. Sumptuously soft, the relaxed, natural-feeling fabric has a subtle herringbone detail and an incredibly tactile quality. 24 trend-led colours, all GRS (Global Recycling Standard) certified, range from subtle naturalistic shades of Pebble and Ash to the more daring Spice and Garnet, complemented by earthy tones of Olive and Saffron, ensuring that the fabric suits a host of interior schemes. The 48% natural cotton ensures a soft and high-quality texture is maintained and this delicate balance of recycled and natural fibres creates a luxe yet relaxed weight, for bespoke drapes and soft upholstered pieces. Orla is the first Studio G recycled product at Clarke & Clarke.
Riva
Clarke & Clarke's reputation for the development of its eco portfolio continues in Riva, a soft, luxurious velvet made entirely from plastic bottles. The opulent drama of Riva's velvet texture and colour choices, of which there are 25, makes for the ultimate fabric for hospitality settings. This dual-purpose, environmentally conscious fabric is GRS certified but does not hold back on glamour and style. Rich, sumptuous and innovative with its harnessing of the power of recycling, this short velvet traverses the spectrum in bold Chartreuse, inky indigo and a heritage-inspired Moss, to complement a rich tapestry of leathers, woods and metals within an interior. Riva's rich palette and texture melts at your fingertips.
New for AW22 Vardo
A collection is a range of wide-width sheers and light drapery using refractions of light as a key inspiration, this collection plays on lucid forms, featuring soft, abstract shapes, all presented in pared-back and contemporary palettes. For this collection, many of the designs have been created using partly recycled fibres, which are GRS (Global Recycled Standard) certified, in a conscious effort to produce more eco-friendly fabrics. Features include subtle, delicate stitching, soft boucles, clipped edge fabrics, and metallic yarns. Brush-mark soft blurred lines, and subtle textures that show perfect imperfections are just some of the fabric techniques that bring these fresh, lightweight designs together. Within Vardo there are pieces to complement the Soren collection, such as Anton and Magnus, which incorporate large-scale semi-circles and boucle finishes and textures that make the perfect sheer layers for window dressing. Other designs play with semi-sheer mesh styles, such as Alberte and Lucas, for a rustic, textured look that sits beautifully on its own or paired with other styles.
DISCOVER THE ECO-FRIENDLY RANGE
posted on 30 Nov 2022 in Interiors